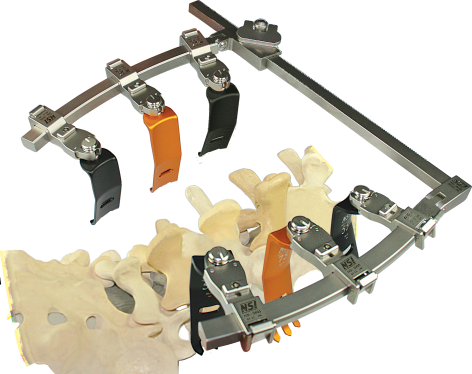 LUMBAR RETRACTOR SYSTEM
Upgrade your current Lumbar Retractor System... with the advantages of the Clear-Line LS. Our LS sets include:
The NSI Clear-Line™ LS includes interchangeable blades with innovative blade-alignment grooves.

All of our NSI Clear-Line™ LS Lumbar Retractor sets are designed with interchangeable components that will work with competitive systems... at a lower cost.
The Clear-Line™ LS Blade Upgrade Sets includes blades that are interchangeable, color-coded, and radiolucent.
The Clear-Line™ LS Frame Upgrade Set includes an interchangeable frame and adapters.

Each of our NSI Clear-Line™ LS sets are equiped with proprietary innovations such as:
Quick-Rail® Retractor Frames
Radiolucent Blades
Quick-Lock® Blade Adapters
Quick Release Handles and Top Loading Blade Attachments