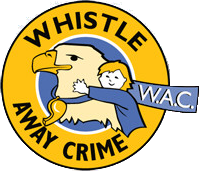 Whistle Away Crime® Eagle and Circle
Mother eagles stir up their eaglets' nests to encourage them to fly; to be free from the confines of the nest. Sometimes when the eaglet tries out its wings, it falters. It is then the mother, a symbol of strength and freedom, spreads her own wings, soars through the air and swoops the baby eaglet up on her wings. Likewise, Whistle Away Crime® uses the head of an eagle to symbolize strength, freedom, and protection. America, too, shares those same characteristics and symbol.

The circle, with no beginning and no end, encircles the Whistle Away Crime® eagle and represents an inter-connectedness of the communities where we live; a place where we all join hands in one accord.

Together, the symbols speak to the strength and completeness of our communities, and the freedom of our children to live and play in a safe environment.