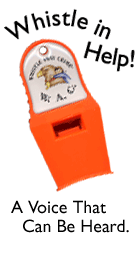 Welcome to Whistle Away Crime!®
Making Colorado the Safest Place to Live
Our mission is to put a Whistle Away Crime® whistle in every child's hand and provide communities with tools for promotion of the safety and well being of all children and adults.
Imagine your child is hurt, lost or missing. What would you do? Not being able to help your child is the worst feeling any parent can have. What if there was a simple and easy way to solve this problem?
Whistle Away Crime® effectively teaches you and your children how to react in almost any dangerous situation with the simple and effective use of our state-of-the-art whistle and training program provided though our award-winning video.
Learn more about our Organization | Learn more about the Story of our Logo